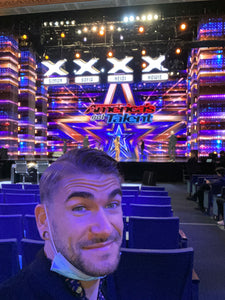 Joel Hansen on America's Got Talent (AGT) Full Audition Info
Joel Hansen Model vs Food AGT Audition
What can I say, it was a great experience! The staff were friendly, I got to meet Terry Crews, some of the judges, and it was memorable to say the least!
Now, what else can I say, not too too much honestly - as it hasn't aired and the audition was not used for air.
Overall it was a couple month process. There was a lot of back-and-forth regarding my Act, and I was even denied at one point! However, with the recommendation/direction of a staff and my flexibility we were lucky enough to have an appearance.
For those wondering, the addition took place in the Los Angeles area. Usually the process takes place over two days, however I did mine all in one day which resulted in a 12-hour day on set filled with many interviews, a lot of b-roll, and lots of waiting.
My audition took place on the last audition day of the year. They had about 30 filming days already, and while everyone was courteous, I think some of the staff were starting to feel the difficulty of these 12 + hour days.
For most people they do not realize what goes into this. There is a lot of planning for each act, a lot of proposals, a lot of confirmation, and I think it is very difficult to fully comprehend the size of this production until you have spent a day on set.
So while I cannot say the outcome, what I will say is I was surprised how it all went down and I will be sure to update with a post, but unfortunately it was never aired.
---