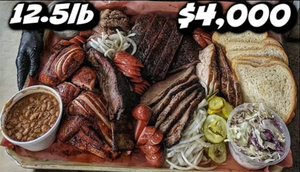 Joel Hansen Raises OVER $4000 FOR CHARITY & You Won't believe how...
Joel Hansen Model Vs Food said "RAISING MONEY FOR CHARITY?! I am in!"
 When it came to doing some good and raising money for the Toronto Covenant House (a crisis youth shelter), Joel was hungry to help! He had only 30 minutes to eat as much texas style bbq as possible. AND for every pound I could eat, $350 would be donated to the charity. Lets see how much money we can raise for a great cause! HUGE shout out to Adamson BBQ, the other sponsors, and all the great friends and bloggers there. But be warned, this monstrous 12lb texas bbq platter didn't come easy...
Watch here: https://fb.watch/dHdGEVW4wa/
https://youtu.be/HSmMDfIl5V0
---